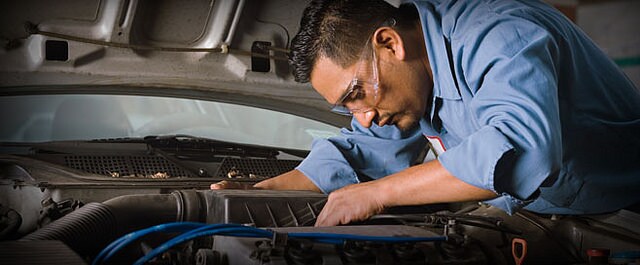 Q: When do I need to change the oil?
A: Refer to your owner's manual. If you have lost or are unable to access your owner's manual, the general rule of thumb is to change your oil and filter every 7,500 miles or six months. Some vehicles require an oil change every 5,000 miles (mostly turbocharged engines), but others are able to run for 10,000 miles or more before needing an oil change.
In the past, nearly all cars required an oil change every 3,000 miles. That figure is no longer accurate, as oil technology has come a long way in the past 30 years. So, while quick-change oil outlets still stick to the 3,000 mile rule, keep in mind they profit off of more frequent oil changes.
To be sure, check your engine's oil level via the dipstick at least once a month.
Q: When do I need to rotate my tires?
A: As a general rule, many dealerships perform a tire rotation at the same time you schedule an oil change. As such, every 7,500 miles or six months is sufficient to keep your tread wear balanced among all four tires. If your steering wheel shakes or your tires are wearing unevenly, it's time to balance your tires as well.
Be sure to check to see if your tires are properly inflated at least once a month.
Q: When do I need new brakes?
A: There's no general rule on when you need new brakes in terms of time. When you need replacement brakes is determined by how you drive and how far you travel-frequently using the brakes, like when traveling the city, will wear your brake pads faster. Infrequent outings and highway driving will result in longer-lasting brakes.
While a dealership will check your brakes at each oil change, you should check them yourself every 12 months or 12,000 miles, just to be safe.